---



Welcome to G A I T, Inc.

Gaited Advocate Intervention Team, Inc. (also known as GAIT, Inc.) Is a Maryland based 501(c) 3 corporation that has been formed to meet an ever growing demand for the gaited horse breeds and other equines who have become in danger of being shipped to slaughter or are in the hands of neglectful owners. GAIT, Inc. will serve as both a direct rescue for horses as well as a resource for educating others on the care and training of the gaited breeds and horses in general. In addition, we will educate the public about the issues of slaughter and auction pipelines as well as how the gaited horse can be used successfully as pleasure and versatility mounts via public exhibitions, fairs, expos and other similar venues. GAIT, Inc. will act as consultants doing evaluations, video and/or as networking facilitators for private owners as well as other rescues and non-profits that may not have experience with the gaited breeds, but who have taken gaited breeds into their rescue programs.

Please follow the below links to learn more...
---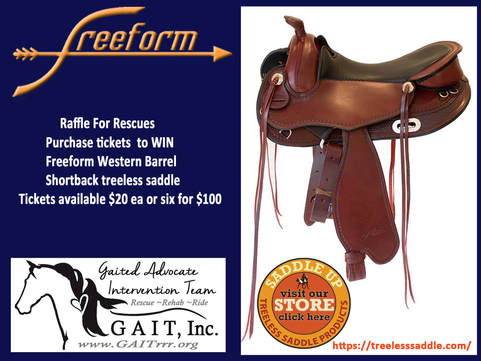 We would like to thank Freeform Saddles for this donation, it helped us raise just over $3000 for the rescue over the summer. Congratulations Stephanie Torres, the winner of this beautiful saddle. You can
watch
the recording of the live drawing on facebook.
The Raffle winner will receive a brand new Freeform Western Barrel Shortback treeless saddle as pictured and includes shipping within the continental US. These saddles are very versatile in fit and are an excellent option for trail riders, gaited horse riders, endurance riders or western sport riders, adjustable seat size fits up to 5'7" and 175lbs. This saddle has been graciously donated by Paulita Neff at
https://treelesssaddle.com/
Retail value on this saddle is $2793.
---
About Us

Read about who we are
​and what our mission is.

Resources

Resources for the new owner
of an at-risk horse.


Available Horses

Horses that currently need
special new homes.

How You Can Help

How you can contribute
time, funds and resources


Success Stories

Horses we have saved and
have found their happy ending.

Contact Us

We welcome all questions,
comments and new ideas.

---
Corporate Supporters
We would like to thank these fine companies that support us through product and/or monetary donations
---
Professional Training Partners
We would like to thank the following trainers who have offered reduced price or volunteer training services to our rescue program horses. We urge those looking for help in the Maryland area to contact these folks, all offer quality, patient and comprehensive training programs.
---
Other Professional Supporters
These are just some of the many professionals who support the GAIT, Inc. Rescue efforts on a regular basis
---
GAIT, Inc. in the News
| | |
| --- | --- |
| Sophie, GAIT, Inc. adoptable registered Walking Horse Mare completes her first Conditioning Distance Ride (CDR). See Press Release for more... | GAIT, Inc is a proud member of the Homes for Horses Coalition |