---



Welcome to G A I T, Inc.

Gaited Advocate Intervention Team, Inc. (also known as GAIT, Inc.) Is a Maryland based 501(c) 3 non-profit corporation that has been formed to meet an ever growing demand for the gaited horse breeds and other equines who have become in danger of being shipped to slaughter, privately owned horses in need of safe haven and at-risk horses that are in the hands of neglectful owners. GAIT, Inc. will serve as both a direct rescue for horses as well as a resource for educating others on the care and training of the gaited breeds and horses in general. In addition, we will educate the public about the issues of slaughter and auction pipelines as well as how the gaited horse can be used successfully as pleasure and versatility mounts via public exhibitions, fairs, expos and other similar venues. GAIT, Inc. will act as consultants doing evaluations, video and/or as networking facilitators for private owners as well as other rescues and non-profits that may not have experience with the gaited breeds, but who have taken gaited breeds into their rescue programs. GAIT, Inc. provides rescue, rehabilitation and retraining for horses in need and places them in loving adoptive homes.

Please follow the below links to learn more...

We would like to thank the Roach Family Foundation for their 2019 grant of $5000 and 2020 donation of $10,000 towards training of GAIT, Inc. horses. 23 horses benefited from training in 2019, in part, due to the foundation's generous gift and the associated adoption fees when 12 of these horses were adopted. We are planning wonderful things for 2020!

---
---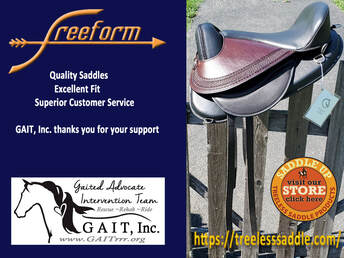 We would like to thank the folks at Freeform Treeless Saddles and Paulita Neff for their continuing sponsorship of Horse World Expo
https://treelesssaddle.com/
. Their donation of a Freeform Saddle has helped raise thousands for the horses of GAIT, Inc. over the past several years. Please be sure to thank them, and if you're looking for a quality saddle for your gaited horse, they are top notch, great quality, fit and customer service!
---
About Us

Read about who we are
​and what our mission is.

Resources

Resources for the new owner
of an at-risk horse.


Available Horses

Horses that currently need
special new homes.

How You Can Help

How you can contribute
time, funds and resources


Success Stories

Horses we have saved and
have found their happy ending.

Contact Us

We welcome all questions,
comments and new ideas.

---
Corporate Supporters
We would like to thank these fine companies that support us through product and/or monetary donations
---
Professional Training Partners
We would like to thank the following trainers who have offered reduced price or volunteer training services to our rescue program horses. We urge those looking for help in the Maryland area to contact these folks, all offer quality, patient and comprehensive training programs.
---
Other Professional Supporters
These are just some of the many professionals who support the GAIT, Inc. Rescue efforts on a regular basis
---
GAIT, Inc. in the News
| | |
| --- | --- |
| Sophie, GAIT, Inc. adoptable registered Walking Horse Mare completes her first Conditioning Distance Ride (CDR). See Press Release for more... | GAIT, Inc is a proud member of the Homes for Horses Coalition |